The 2021 Chevy Tahoe is among the latest models that Chevrolet is promoting these days. Tahoe is touted to be one of the top-selling full-size SUVs in the United States.
There's no denying that Tahoe is faring well amidst the craziness brought on by the coronavirus pandemic. In fact, the updated 2021 model year is expected to blaze a distant lead from most of its competitors.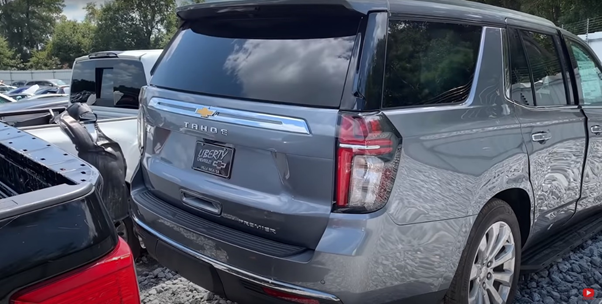 The 2021 Tahoe Premier has a starting price of $63,895. It features a 5.3-liter V8 engine with 10-speed automatic transmission, and magnetic ride control. For an additional $4,485, you will get the premium package, which includes a panoramic power sunroof, adaptive cruise control, max trailering package, enhanced display and alert package.
Even with the 2021 Tahoe Premier being new, a vehicle was found already lying at Copart. It still has its Monroney sticker in the window, which indicates that the vehicle may not be sold. It was also found with dealership plates, which prove the previous claim.
The Chevy Tahoe, featured in the clip, is in a sorry state, alongside other vehicles that met a similar fate. The right side of its front end is fully stripped. The parts are ripped to pieces and were stashed in the cabin of the SUV. Inside, you can also see other vehicle parts such as the suspension arm and trim components. Essentially, the cabin should not have been damaged; however, given that pieces were found inside the cabin, it is now flawed.
These parts being occupied by the 2021 Tahoe serves as an indicator to the severity of the accident. Aside from the front end of the SUV, its rear left side also took a beating. There are visible traces of mud between the panels, which suggest that the vehicle could have rolled during the crash.
Is this a case of an accident during a dealership test drive? Of course, we can only assume what happened here without an official statement regarding it.
VIDEO: