Most of us want to customize our plates–make them a little personalized. It is another way to make a car our own and be unique.
Of course, if you are a fan of the show Seinfeld, you probably remembered the episode where Cosmo Kramer got the wrong license plate with "A$$MAN" (sorry, we have to alter its spelling for this one). Originally a proctologist ordered it to represent his chosen profession.
Anyway, if you want to get a vanity license plate, you are going to encounter strict regulations. One of the known policies is the ban on the use of obscene or profane plate codes. Get in trouble with that, and your state court could revoke your desired plate.
It already happened once in Indiana where a police officer who wanted to apply for "0INK" as his vanity license plate got rejected by the highest court of the state. In fact, Indiana's Supreme Court referenced a US Supreme Court case, indicating that it didn't violate freedom of speech by refusing a license plate with a "tongue-in-cheek" implication to his job as a police officer.
Recently, another similar case happened in Cumming, Georgia. Ron Mowen, the owner of Vengeance Racing, had his vanity plate recalled by the state's revenue department. Even after an appeal process. Ron is a great guy, amazing tuner, and runs one of the best shops in the country if you are looking to sup up your car.
The reason? Because of deemed profanity, of course!
In fact, he got a formal letter from the Georgia Department of Revenue for this matter. In the letter, it states the following: the Special Prestige License Plate containing 0PHXGVN was recalled on February 13, 2020, as it violated Department of Revenue Regulation 560-10-22-02(3)(d), which prohibits any license plate combinations which "contains any combination of letters of numbers which are profane."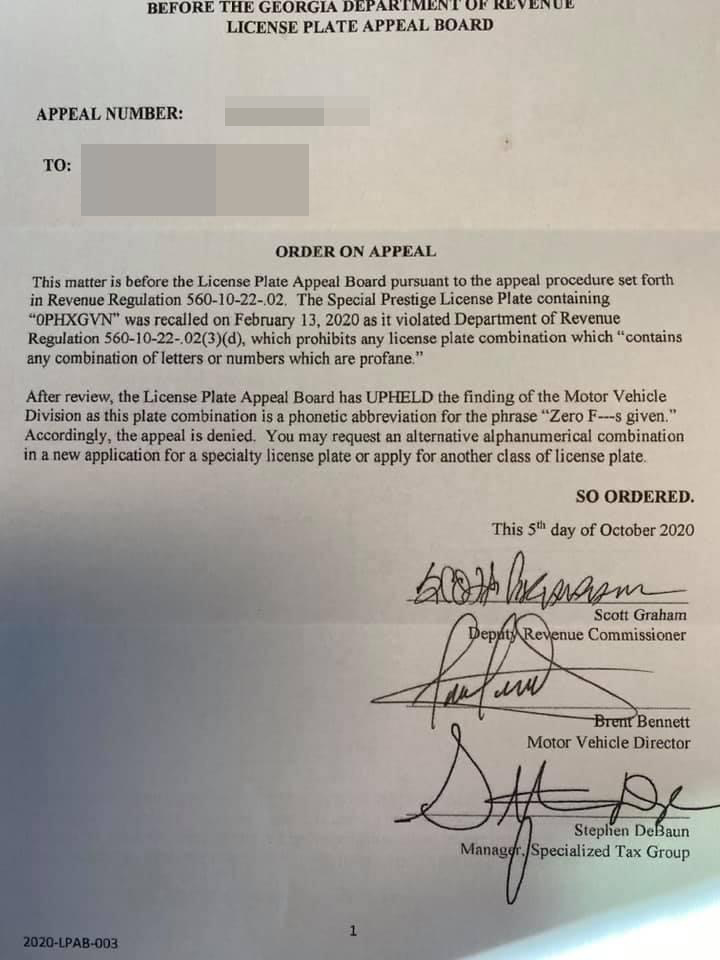 Now, it is quite certain that some of you are wondering what part of 0PHXGVN is profane. Well, based on the letter, the said combination is just a phonetic abbreviation for our well-beloved phrase "Zero F—s given."
The ruling for free speech is definitely a topic for debate. But what do you think? Does the prohibition of these "cheeky" vanity plates impede your right to free speech?