Automakers like to hide their vehicles when it comes to testing their prototypes. For instance, the last time we saw Chevrolet prototypes on the streets was September this year. Specifically, we spotted a batch of 2022 Corvette Z06 prototypes that were cruising in Colorado.
This time, we are fortunate enough that CorvetteForum user "jbsblownC5" was able to take footage of the C8 prototypes. In the video he posted, he has seen four units of Corvettes traversing the high-altitude roads of California. One of them is unmasked–an Accelerate Yellow Stingray. The rest of the prototypes are covered in seemingly all-black camouflage even down to the wheels.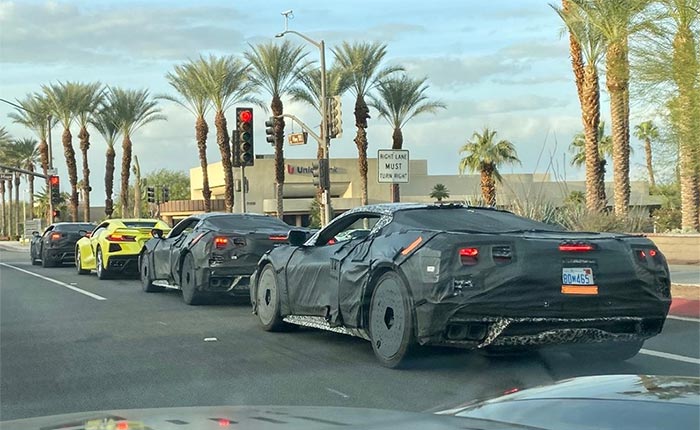 It is noticeable that the exhaust outlets of these camouflaged vehicles are resting on their corners. Hence, we believe that they are not the Z06 prototypes that we have previously seen. Those Z06s will possibly sport dual exhaust pipes on their center.
Alternatively, there is also a possibility that these vehicles are the upcoming hybrid electric vehicle of Chevrolet called E-Ray. GM Authority reported that the Corvette E-Ray is a rumored hybrid variant of the current mid-engine Corvette C8. Accordingly, GM Authority discovered that GM had filed applications to trademark "E-Ray" and "Corvette E-Ray." These rumored vehicles are said to appear in 2023.
In the CorvetteForum, jbsblownc5 wrote the following:
Yup, Just under 2 years ago, I got a hot tip that base model C8s were testing in the mountains where I live. Well, it happened again yesterday, uploading and editing, say tuned… Yes, this is a teaser! I'll put together a few more clips of the more "spirited stuff" soon…"
VIDEO: